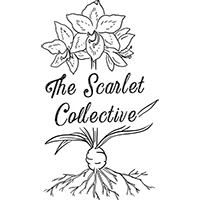 Hey Scarlets! This week on the pod we have the wonderful Lauren Dodge of Fruits to the Roots chatting with us about plant magic. Lauren shares her expertise on the intersection of plants and sensuality, and she even provides us with a simple sensual plant DIY recipe, in hopes we can all engage with earth and nature during this challenging time. Lauren helps Mary Adelle answer an important question, and as usual, we pause for pleasure at the end of the episode. Find Lauren on her instagram page: @fruitstotheroots and also on her website:
fruitstotheroots.com
to learn more about her and her work. Thanks for tuning in, Scarlets!